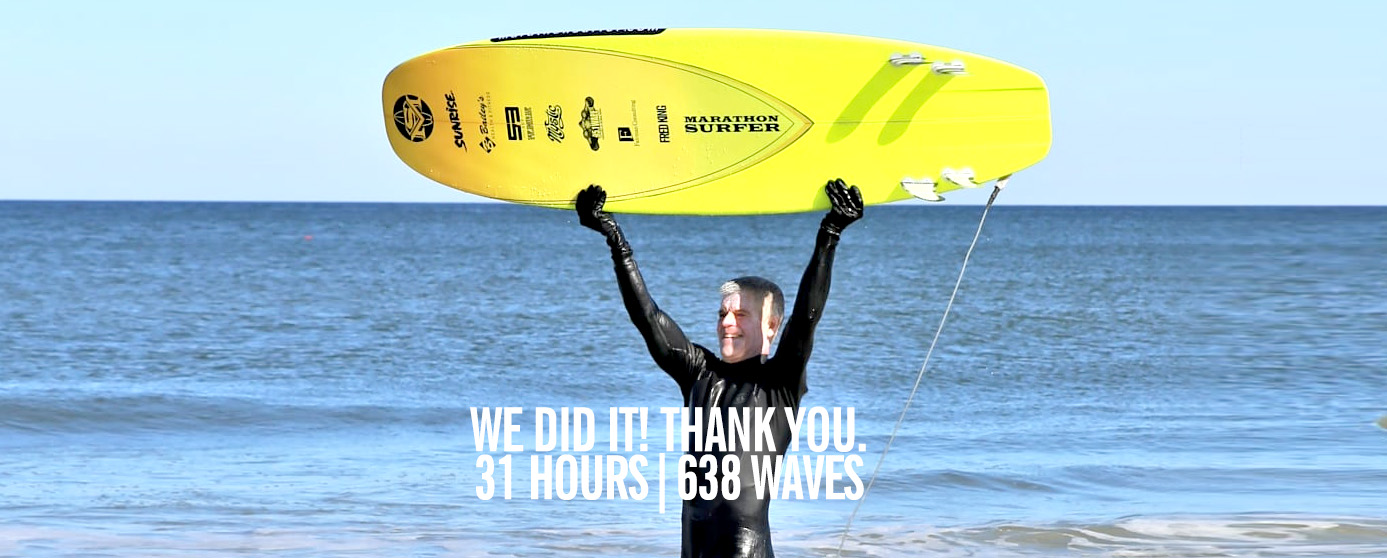 Marathon Surfer
Ultra Surf Marathon Accomplished — 638 Waves Caught in 31-Hour Surf Session!
Fundraiser For Deck The Chairs SeaSongs Light & Music Spectacle
Who
Kurtis Loftus, Guinness World Record Holder for Longest Surf Marathon
Set in Jacksonville Beach, FL October 28, 2011 (record broken)
What
Surf Marathon Attempt — 40 Hours / 440 Waves
When
October 25-27, 2021
Where
Jacksonville Beach, FL (in front of Lifeguard Station)
Why
Raising funds to underwrite new DTC holiday music and light show
Kurtis Loftus, Founder of Deck The Chairs a favorite holiday tradition in Jacksonville Beach Florida is raising money for a new $38,000 music and light show planned for the 2021 season. July 1, Kurtis will start a 100-day training program to prepare for the challenge. Work will include endurance paddling, strengthening legs and improving surfing techniques.
Support Levels
Marathon Surfer Grom — $25
Deck The Chairs friend with listing on Marathon Surfer web site.
Marathon Surfer Master — $100
Supporting Deck The Chairs with a dollar for every day of Marathon Surfer training.
Listing on Marathon Surfer web site.
Plus — Keepsake Marathon Surfer Print.
Marathon Surfer Grand Master — $500
Corporate partner receives recognition on all Marathon Surfer promotion and outreach. Corporate logo on custom built Marathon Surfboard (ridden during event and displayed at 2021 DTC), logo on all marketing materials including Marathon Surfer web site and Facebook event page. Special announcement during DTC.
Plus — Keepsake Marathon Surfer Print.